Tom Brady is known as one of, if not the best quarterback to ever play American football. His nine Super Bowl appearances include six Championships, and his numerous season and Super Bowl MVP awards summarise the most fruitful NFL relationship ever struck up between Brady and coach Bill Belichick. A juggernaut that fuels the league's greatest modern dynasty in the New England Patriots, all of this success and prestige could have easily been missed. If it wasn't for an extremely determined college quarterback consulting with his associate and a controversial NFL rule that has since been abandoned, the New England Patriots wouldn't have won their first Super Bowl back in 2003 and thus gone on to begin an all-conquering run through the NFL.
Contrary to opinion, Tom Brady was never a superstar before the NFL. Unlike many highly touted quarterbacks that dominate the college system before being showered with attention and an early draft pick, Brady had to fight for a go at every team he played for.
As a kid fresh out of high school with a passion for throwing the football, Brady belied his family's wishes and decided to play for the University of Michigan.
"It's pretty daunting – a Californian kid going to Michigan," Brady told the NFL media crew for a short film on his career in 2016.
Even more daunting was that he was seventh in the pecking order to land a role as the starting quarterback. Needing guidance, Brady knocked on the door of Michigan's Associate Athletic Director Greg Harden on the eve of his sophomore season.
"It's a rare moment when a kid will show up at my office saying I need some support," Harden said in an interview with the NFL. "He (Brady) said I want to be the starting quarterback at Michigan. He had just lost 25 pounds from appendicitis. He was the skinniest kid you ever saw in your life talking about wanting to be a quarterback at Michigan".
Brady's determination certainly helped his case. Working up the depth chart for Michigan's quarterbacks, he entered his senior year fighting for the starting spot against teammate Brian Griese. Brady lost.
Despite considering the idea of moving colleges to find a team that would start him as quarterback, Harden told him that the stress of relocating may only end up with Brady being dealt the same heartbreak. In Harden's words, the 20-year-old scrawny quarterback had to "fight, don't complain, don't explain". Working even harder than before, Brady found himself replacing Griese and playing the rest of the season as starting quarterback, where a record-breaking performance in the Orange Bowl capped off a rollercoaster season for the Californian kid.
However, Brady's tribulations didn't end there. Due to a poor athletic showing at the NFL Draft Combine, he slipped down to pick 199 in the NFL draft. A sixth-round selection, he packed his bags to fall into line down the bottom of New England's quarterback depth chart.
Except this time, Brady had learnt how to handle this rejection.
"This guy was hungry to be the best. He was trainable, coachable and hungry", Harden said. These qualities led to Brady working his way up to second in line behind veteran New England quarterback Drew Bledsoe. Two weeks into the 2002/03 season, Bledsoe was injured, leaving the reigns to Tom Brady.
From there, Brady flourished. Using his acute awareness, accurate arm and intuition, the young QB led New England to the playoffs, where their first match came against the Oakland Raiders.
The date was January 19, 2002. In the first ever Divisional playoff to be played at night, and the last ever match held at Foxboro Stadium before it would be demolished and turned into Gillette Stadium, snow pelted down in America's north east.
"It was almost perfect, only there was two feet of snow on the field", Oakland coach Jon Gruden remembers in his interview with the NFL. Little did he know, the last minute video replay decision against his Raiders would be anything but perfect for the luckless coach.
Coming to New England, the Raiders were a side that always had a chip on their shoulder. With a vengeful owner in Al Davis, who still believed the NFL had a conspiracy against his franchise after the famous 'Immaculate Reception' in 1972, Oakland were fully set on making a march towards the Super Bowl.
Their determination seemed to have paid off, too. With a minute and 50 seconds on the clock, the travelling Raiders were up 13 to 10. Brady had the ball – a rookie quarterback in the most intense situation a thrower could be placed in. Starting off the play, he struggled to locate an open receiver. While cocking the ball and looking to throw to a short option, Brady was tackled to the ground by Oakland's number 24 in Charles Woodson. As this happened, the ball was knocked out of Brady's hands, and jubilant Raiders pounced on the free ball. The referees initially called it a fumble, meaning the Patriots had lost possession and any chance at winning the game. Their season was over.
Then, frantic waved hands interrupted Oakland's celebrations. The play would be reviewed to the booth upstairs, where one replay of the incident found it adhered to a barely known rule.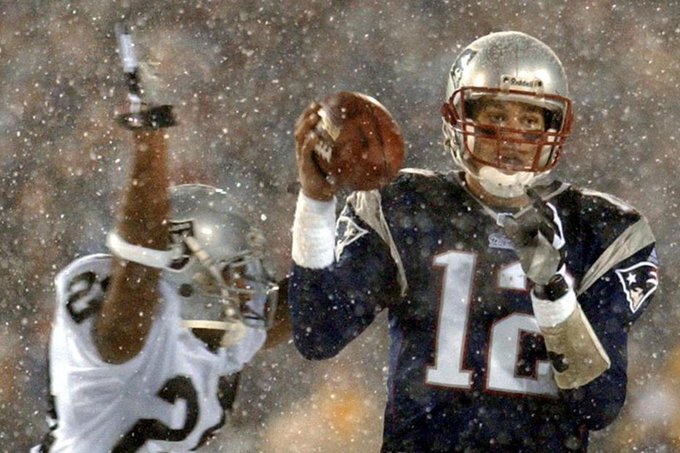 The tuck rule stated that a forward pass from the quarterback doesn't start when the ball leaves their hand. Instead, it began with the forward motion of the hand as it launched the ball forward. Therefore, the throw was considered to be in motion until the quarterback either threw it or tucked the ball back down to their side. Despite Brady's intent clearly showing he wasn't yet trying to pass, the letter of the law deemed it as an incomplete pass, meaning New England retained possession.
This ruling caused an outbreak of controversy. What made it even worse was that Brady marched his Patriots down the field, where a jittery kicker by the name of Adam Vinatieri had the chance to send the game to overtime. Having missed four of his last five kicks from between 40 and 49 yards, he steeled his nerves and slotted an incredible field goal in the pelting snow.
To rub salt into the wound, Brady then threw eight complete passes in a row to lead New England down the field, where Vinatieri kicked another field goal to win the match for the Patriots. For Oakland coach Jon Gruden, livid owner Al Davis and all Raiders fans, the Patriots had won solely through the tuck rule.
The fall-out was massive. Davis, still bitter over another decision that he found indicative of the NFL's hatred for him and his Raiders, sent Gruden to Tampa Bay. The Raiders bounced back the next season, this time reaching the Super Bowl. Who were they met by? Gruden and his Buccaneers. The confident coach exacted revenge against his former team by taking the chocolates in the Super Bowl. Davis had lost out once again. Oakland continued a slide that now results in them being relocated to Las Vegas for the 2020/21 season.
A hated law, the tuck rule was to be later removed during the 2013 season, where a vote of 29 to one supported the eradication of the rule. For Oakland fans, it came a decade too late.
As for the Patriots – the rest, as they say, is history. Brady personally acknowledged that the tuck rule call was made to look even worse when New England won the next two games. In the last minute of the Super Bowl, Brady once again led his team down into field goal range, where Vinatieri kicked a field goal that won the Patriots their first Super Bowl title 20 to 17 over the heavily favoured St. Louis Rams.
Two years later, Brady would drive downfield again, and Vinatieri confirmed his status as the most clutch kicker the NFL has ever seen when he won New England a second Lombardi Trophy 32 to 29. In the next season's Super Bowl, they won again. A dynasty had begun, and it arguably still continues to this day.
Tom Brady, a weak and skinny tall kid who arrived at Michigan with low chances of excelling, has gone on to become a superstar. He was the NFL's first unanimous MVP in 2010, which sits in his trophy cabinet alongside two other MVP awards and a raft of Lombardi Trophies, Super Bowl MVP's and various other awards he has set along the way for appearances, passing yards and touchdowns scored. It's safe to say he is perhaps the greatest ever quarterback to have played the game.
And it all could have gone so differently if it wasn't for a supportive college associate, a strong-willed approach to life and an extremely controversial ruling on that snowy night in Massachusetts.